A couple of weeks ago, Dave Cass Sr celebrated his 60th wedding anniversary with his lovely wife. Want to know one of his secrets to a long, successful marriage? Be aware of your strengths, but more importantly, hire an expert when you are unsure of what you are doing. Often, plumbing fixes look simple and easy. However, when things go wrong with plumbing, it can end up costing you 10 times the cost of calling a plumber at the beginning. Water damage can destroy a home and end up costing tens of thousands of dollars in damage.
Cass Plumbing has been serving the Tampa Bay region for close to 2 decades, and we have witnessed some epic plumbing fails done by Do it Yourself homeowners that attempt to be a plumber for the weekend.
Below, are examples of common plumbing fails made by Do it Yourselfers that we have witnessed over the many years serving the Tampa Bay region.
Switching the Hot and Cold Water Lines
A very common plumbing mistake made when the Do it Yourselfer mislabels the tap with a blue color, but hot water pours out. The same happens with the red tap that has cold water pouring out.
What's worse is when the person turns the tap and the water pours out of the adjacent one. It almost looks like a magic trick, but it's not.
Taking it Too Far
Nothing beats coming home from a long day's work and taking a shower to release the tension of the day. Showering is supposed to be a pleasant experience, but it can turn it into a nightmare if the showerhead hanle is installed on the wrong side. The simple, obvious plumbing fix would have been to fit the handle above the tap, but it seems that idea, went so far over his head that it ended up on the wrong side of the bathtub.
Need Quick Hands
Automatic taps, installed properly, should give one ample time to rince their hands. If the faucet is installed incorrectly, taps automatically turning off too fast is a very common problem.
Commercial Property Owners Cutting Corners
Trying to cut corners and save money is not something only done by homeowners. We have run into issues where the owner of a commercial property in Tampa attempted to save money and install a sink in a public bathroom. Ether the sink was too short or the faucet was too long. Either way, it was an epic plumbing fail in a Tampa commercial building.
Too Powerful
When it comes to taps, slow and steady usually does the trick. That's not always the case when you turn a Do it Yourselfer loose on installing a water tap for the kitchen sink.
Despite the homeowner taking his time to carefully turn on the tap, he can't stop the high-pressured torrent of water that explodes from the faucet. Regardless of how slow he turns the tap, the water gushes out.
But look on the bright side: At least the water isn't coming out in a slow drip. Yeah, it might seem like a minor inconvenience, but you can see how fast the glass fills up. This would do for filling up a pot for boiling pasta, but for cups and even measuring spoons, there's no hope for precision.
Until a professional plumber, like Cass Plumbing of Tampa Bay is called and fixes that problem, the household has to drink a full glass of water, and they can forget about trying to time the water to fill it up only halfway.
Calling the DIYer From Next Door to Fix Your Plumbing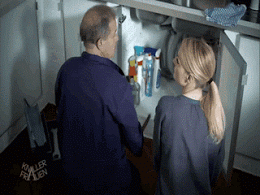 Having a good neighbor that's also a DIYer and having them fix your plumbing is often a really bad idea. It's best to not find out too much information about your neighbor, you might never look at them the same way. Also, if they ruin your plumbing while trying to help will also really sour the relationship.
Water Canon
After witnessing some epic plumbing fails throughout Tampa, this video is somewhat common.
Some DIYers only care about appearance. As long as it looks like it works, that's good enough for them. That is, until their wife tries to take a shower.
Making a Splash
There's no such thing as finding the middle ground when this DIYer is on the job. He only knows one way to do things: go full throttle.
The only positive thing that we can say about this plumbing job is that the homeowner is fortunate the tap didn't gush off like the previous entry on the list.
Plumbing Decoded
If anybody wants to use this tap, they'll have to ask the DIY plumber for the code that will release the water.
These are just a few epic plumbing fails that we have witnessed voer the years by DIY plumbers in Tampa.
If you want to live in 60 years of marital bliss, like our leader Dave Cass Sr., then stick to the things you are good at, and when it comes to plumbing in Tampa, call the professionals at Cass Plumbing of Tampa Bay. We will save you time, money and maybe your marriage.