Leonardo da Vinci said, "Water is the driver of Nature." It's certainly been the driver of invention, and our well-pumping ancestors wouldn't believe the clean water technology we have available to us today. No doubt they'd be impressed by the filtration techniques, fancy chrome design, electronic Faucets, touch Faucets and even ionizing powers of our plumbing fixtures today.
Check out this timeline showcasing the evolution of plumbing faucets, and perhaps you'll gain a bit more gratitude for that underappreciated plumbing appliance atop your sink in your Tampa home.
2000 BC
The Romans developed pipes made of cement, making the irrigation of water much cleaner and more efficient.
1700 BC
The Minoan Palace of Knossos on the Isle of Crete installed drainage systems and pipes that provided water for faucets.
500 BC
Hippocrates was ahead of his time in terms of purifying water for drinking. He invented the first cloth bag filter.
1500s
Leonardo da Vinci designed the first valves, a large component of water faucets. He illustrated the designs that preceded the faucets we use today.
1913 Albert Brown invents the quaturn cartridge. The quaturn cartridge starts & stops the flow of water, so a faucet only needs a quarter turn instead of several full turns. This greatly extends the life of faucets.
1927 Colored faucets were introduced to the market. For the first time, people could choose colors and styles that appealed to their home's design aesthetic.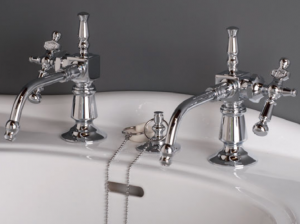 1937 Al Moen envisions a single handle faucet after he scolds himself on an old-fashioned two-handle faucet. Before Moen, faucets were either hot or cold, there was no in between. Moen solved this problem by introducing an internal cartridge that would allow people to get a blended mixture of both hot and cold water from the same faucet. This invention changed plumbing faucets for ever.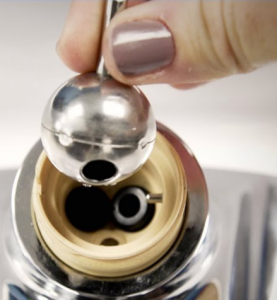 1945 Landis Perry designed the ball valve for faucets. Ball valves control the amount of hot and cold water that comes through the spout.
1950's Automatic faucets (in other words, hands-free) were first developed.
1954 Alex Manoogian patented and brought to market the first successful washerless ball valve faucet using Landis Perry's design, the Delta faucet, named for the faucet cam shaped like the fourth letter of the Greek alphabet.
1959 Alex Manoogian's design & Delta Faucets are in over 1 million US homes & they are sold in 55 different countries throughout the world. Other Alex Manoogian investions include: the replaceable cartridge to eliminate washers being used in faucets, push-button shower valve diverter, screen aerator, pressure balancing shower valves & the swivel spray.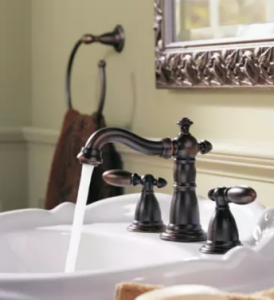 1970's Delta Faucet develops a 2 handle washerless line that is an affordable decorative faucet with a high-arc spout.
1980 Wolverine Brass patents the ceramic disk cartridges. This provides more accurate control and tends to last longer than cartridges due to high wear resistance.
1982 Delta introduces the first domestically produced faucet with a pull-out spray head.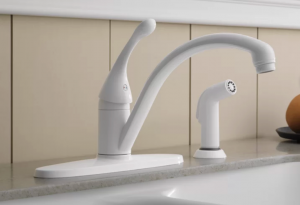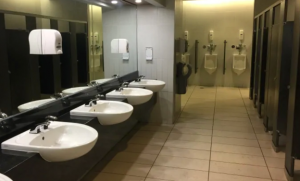 1980's As public knowledge about germs and contamination became more prevalent, automatic faucets became widely available in public places, like airports and malls.
1990's People began discovering that their tap water—so long revered as supremely healthy—could have harmful chemicals. The science of water ionization responded to the need for cleaner water every day at home.
1996 Delta is the first to use Physical Vapor Deposition (PVD) for an anti-tarnish finish.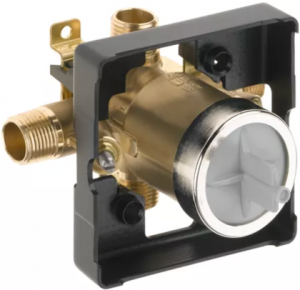 2005 Delta introduces a Universal Valve design. Users can change the appearance, style and function of fixtures without changing the pipes.
As you can see in this blog, faucets have changed a lot over the years. What has not changed is the demand for faucets. In Tampa, the average family use the faucets in their homes 70 times per day. This constant use, causes natural wear and tear on faucets and it leads to drips and leaks.
When you get a dripping faucet, don't neglect it. Just 1 drip per second coming out out of your faucet equals 3,000 gallons of wasted water over the course of a year. Remember, faucet leaks don't fix themselves, they only get worse over time. So if you have a faucet leak, and you would like your faucet repaired or replaced, call the Tampa plumbing professionals at Cass Plumbing of Tampa Bay at 813-265-9200. We turn plumbing into cash rewards!